Working...

Each of the past couple of years, art students have had the opportunity to travel to the Dane G. Hansen Museum in Logan to see exhibits of artwork created by professional artists.
In March, 2016, three students - Carril Rego, Nathan Hrabe, and Nathan Huffman - got to see an exhibit of several incredible realistic paintings of the Canadian Arctic created by Cory Trepanier. Trepanier traveled to several locations in the Canadian Arctic where he made several painted sketches and took many photographs of the different landscapes that he saw. He used those sketches and photos to create finished paintings, including a couple that are very large in scale. Unfortunately, we were not able to photograph Trepanier's artwork - a good reminder to the young artists about copyright law and the responsibilities we have when we wish to photograph another's artwork.
On September 10, 2017, five Art Club members journeyed with me to Logan to see the incredible hyperrealistic sculpture of Marc Sijan at the Dane G. Hansen Museum. In the case of this exhibit, we were allowed to photograph and distribute images of the work. In the photo below, you can see sophomores Lharken Patzel and Sabrina Saltzman, and freshman Carril Rego interacting with the sculpture of a salesman carefully peering into the peephole of a front door.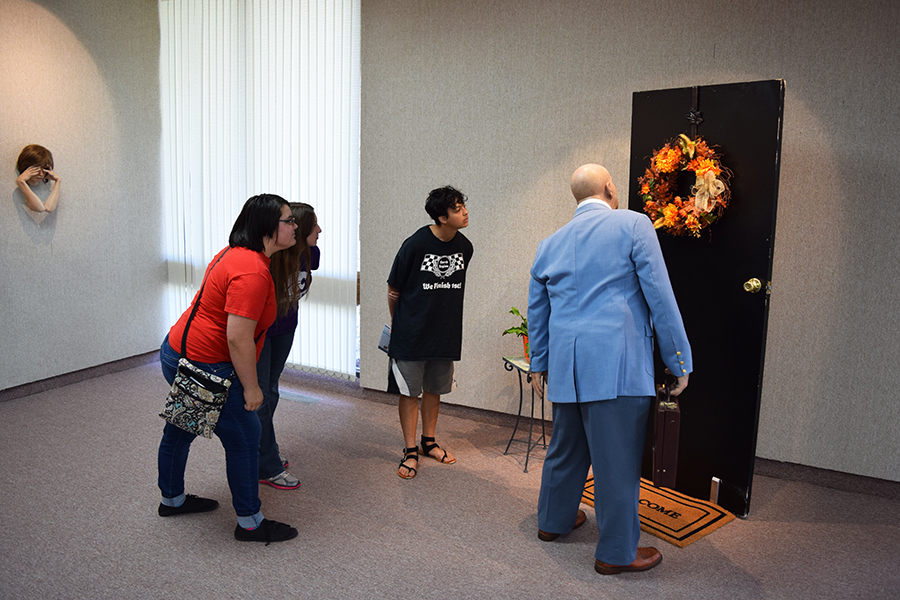 Here are a couple more images of Marc Sijan's incredible sculpture.